Newsletters
Newsletter – Victim First – June 2017
Newsletter – Victim First – March 2017
Newsletter – Victim First – Sept 2016
8th March 2017 – International Women's Day
For #IDW2017 we pledged to celebrate women's achievements, challenge bias and inequality, forge women's advancement and campaign against violence.
8th February 2017 – Sexual Violence and Abuse Awareness Week
We took part in a Facebook Live event alongside First Step (an organisation run for male survivors and their supporters of sexual violence and rape) and Leicestershire Police. You can watch the session here.
We also raised awareness by supporting our partners and supporting the #itsnotok campaign.
18th January 2017 – Victim First hold stall at Highcross Shopping Centre
We held a stall at the Highcross Shopping Centre on 18th January 2017 to raise awareness of Victim First.
9th December 2016 – Victim First 'One Year On' Event
We delivered a '1 Year On' event at Police HQ on 9th December 2016 to share some of the progress made over our first year of service delivery.
The event brought together organisations from right across the local community; from service users, police and criminal justice organisations to councillors and local authority representatives

20th – 27th November 2016 – International Restorative Justice Week
Victim First are celebrating this week's International Restorative Justice Week which can be followed on Twitter using the hashtag #RJWeek and #IRJW.
We work in partnership with Restorative Solutions. For more information please see our Restorative Justice page.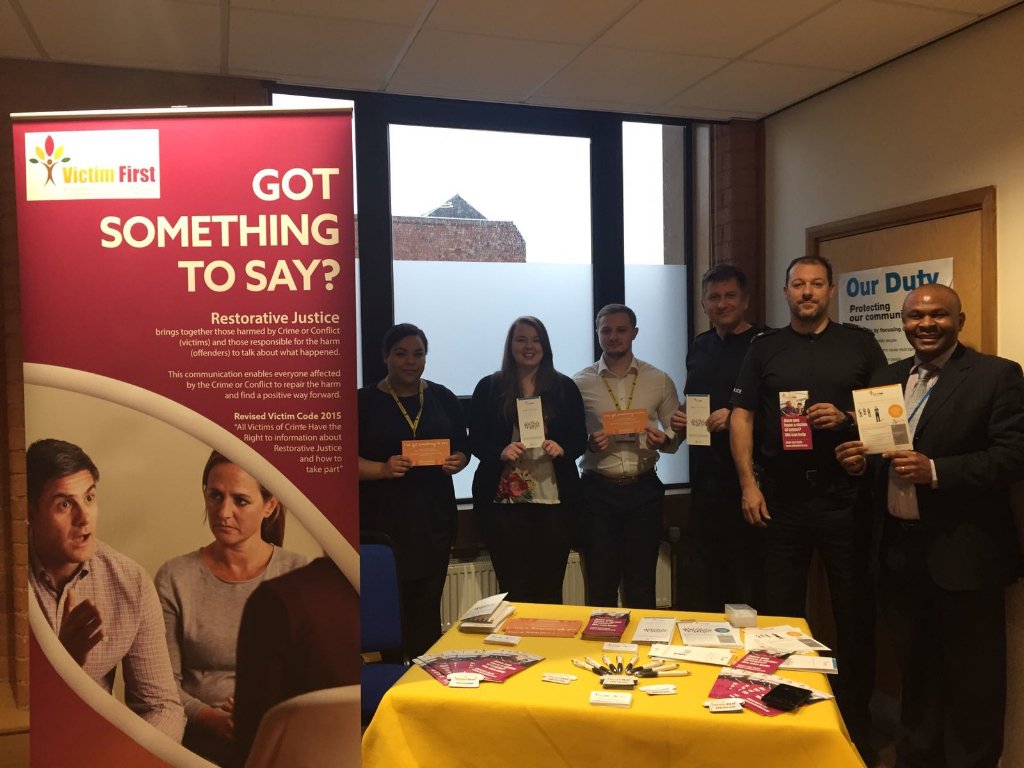 8th – 15th October 2016 – National Hate Crime Awareness Week
Standing together against hate crime
We are participating in a number of local initiatives and will also be attending the Community Relations Forum Event facilitated by the Blaby, Hinckley and Bosworth Borough Councils on Thursday 13 October.
Head of Service Paul Kiggell says:
'Nobody deserves to be the victim of hate crime. Any crime or incident which a person perceives to be motivated by hostility or prejudice towards their identity is unacceptable. Here at Victim First, we recognise the significant impact that hate crime and hate incidents can have on an individual and also their families and circle of friends. We understand that each victim of hate crime has individual needs, and that is why our service is designed to be tailored to meet these needs, dependent on the wishes of the victim.
'We offer both emotional and practical support, ranging from regular phone calls or visits enabling victims to talk about how they are feeling, to an immediate referral to our onsite mental health nurse, to crime prevention measures fitted by our approved specialist locksmiths. We also offer victims the opportunity to communicate or even meet with the person who has caused them harm; restorative justice support such as this can really help victims to feel better about their experience of crime.