Newsletters
Newsletter – Victim First – June 2017
Newsletter – Victim First – March 2017
Newsletter – Victim First – Sept 2016
#PuttingMeFirst Poster Campaign – 5th September 2017
Victim First Poster Campaign
We already offer support to over 1000 people across Leicester, Leicestershire and Rutland every month.  And we know from the feedback you give us, that this support really helps.  But we want more people to access our free service so that we can help them to start to recover from the impact crime can have.
We know that people will only accept our support if they've heard of us, so we wanted to raise awareness of Victim First by using a creative poster campaign that would catch the eye and capture the imagination whilst effectively sharing the message of what we do.
We've undergone a long and thorough consultation process in the design of these posters, seeking views from our service users, local stakeholders and experts from Catch22 and DeMontfort University. 
We've then used the talents that we have within our Service to create these posters, even drafting in staff and friends to act as our amazing models.
You'll see several themes running through our posters:
Firstly, the message of #puttingmefirst.  It's essential that people understand that we will tailor our support to their individual needs as victims of crime.  We really do put them first and ensure they dictate the service we can offer them.
Following on from this, we wanted our communities to recognise the fact that this Service is commissioned for their local needs. This means that we can work with Leicestershire Police, our Local Authorities and other key partners to adapt the support we offer to cater for the needs of our residents, rather than being restricted by inflexible national delivery models. To demonstrate this, you'll see the second theme of a local Service represented by some of our well-known local landmarks within each of the posters.
Thirdly, diversity.  We're incredibly proud of the diversity of our communities across Leicester, Leicestershire and Rutland and we wanted to reflect this through our fabulous 'models'.
We also wanted this to come across through the different situations they describe.
We recognise the fact that no two victims are the same: how one person reacts to a Hate Crime, for example, will be entirely different to the way it impacts on another victim.
That's why it's essential that we put their needs first, listen to how they feel, and don't just apply a stock support package based on crime type.
Everyone is an individual, and Victim First treats them as such.
We've also launched the posters in a creative way to try to raise as much interest as possible and reach as many people as we can:
You'll have noticed a big presence on Social Media as we've ramped up excitement leading up to today's launch.
Today we'll be sharing the posters on Social Media and emailing copies out to all key local partners.
We'll also be doing a mad dash across Leicester, Leicestershire and Rutland to stick these posters up in the community.
On top of that, we're running some exciting competitions as part of the launch:
In line with #puttingmefirst, we're asking our community to nominate local heroes who they think put others first.
The winning nomination will get the opportunity to meet with the Police and Crime Commissioner for Leicester, Leicestershire and Rutland, Lord Willy Bach.
Their story of putting others first will also be printed in the Leicester Mercury.
2. There'll be a 'Spot the Poster' competition too.
Our followers will be encouraged to take a photo of any of our posters when they see them and to then post this photo on social media telling us where they've seen the poster and using our      hashtag.
The first 5 people to share their photos on social media will receive a Victim First Goody Bag and vouchers.
3.Finally, we've been posting some 'Guess the Location Riddles' for our followers to play along with, whilst further raising awareness of our campaign.
Thank you for following us and continuing to support the invaluable work that Victim First does.
If you do nothing else today, please follow us on Twitter @Victim1st, use our hashtag #puttingmefirst and talk to somebody about Victim First.
If these posters have left you wanting to know more about the support we offer, give us a call on 0800 953 95 95, drop us an email to support@victimfirst.pnn.gov.uk  or check out our website www.victimfirst.org  
8th March 2017 – International Women's Day
For #IDW2017 we pledged to celebrate women's achievements, challenge bias and inequality, forge women's advancement and campaign against violence.
8th February 2017 – Sexual Violence and Abuse Awareness Week
We took part in a Facebook Live event alongside First Step (an organisation run for male survivors and their supporters of sexual violence and rape) and Leicestershire Police. You can watch the session here.
We also raised awareness by supporting our partners and supporting the #itsnotok campaign.
18th January 2017 – Victim First hold stall at Highcross Shopping Centre
We held a stall at the Highcross Shopping Centre on 18th January 2017 to raise awareness of Victim First.
9th December 2016 – Victim First 'One Year On' Event
We delivered a '1 Year On' event at Police HQ on 9th December 2016 to share some of the progress made over our first year of service delivery.
The event brought together organisations from right across the local community; from service users, police and criminal justice organisations to councillors and local authority representatives

20th – 27th November 2016 – International Restorative Justice Week
Victim First are celebrating this week's International Restorative Justice Week which can be followed on Twitter using the hashtag #RJWeek and #IRJW.
We work in partnership with Restorative Solutions. For more information please see our Restorative Justice page.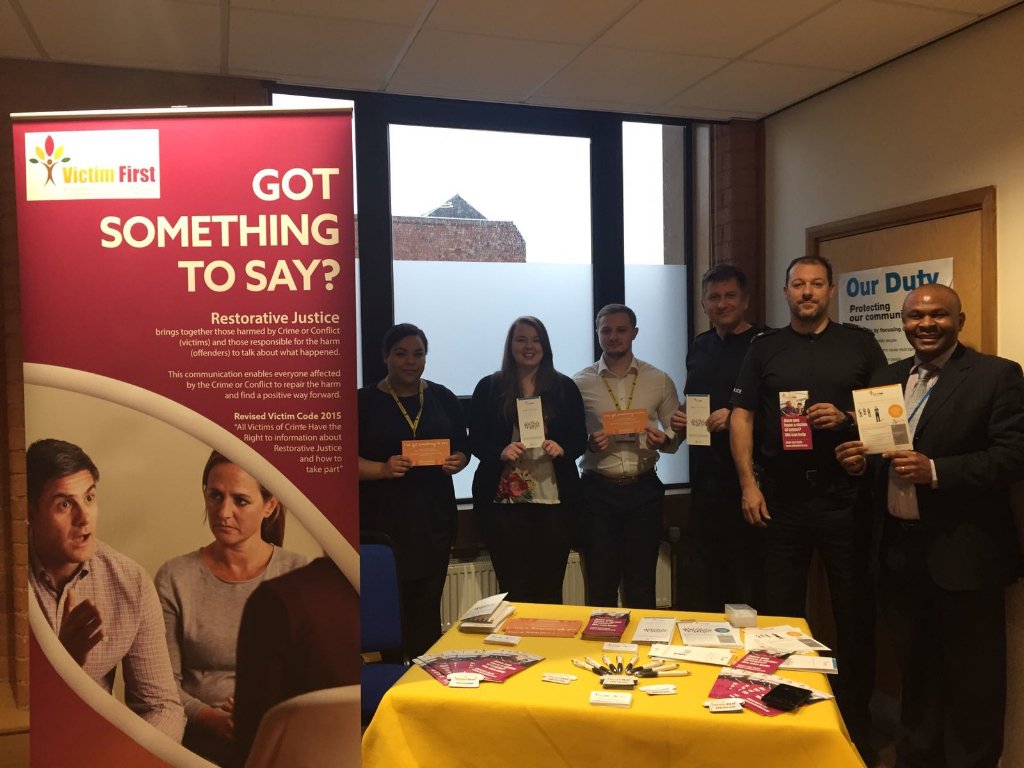 8th – 15th October 2016 – National Hate Crime Awareness Week
Standing together against hate crime
We are participating in a number of local initiatives and will also be attending the Community Relations Forum Event facilitated by the Blaby, Hinckley and Bosworth Borough Councils on Thursday 13 October.
Head of Service Paul Kiggell says:
'Nobody deserves to be the victim of hate crime. Any crime or incident which a person perceives to be motivated by hostility or prejudice towards their identity is unacceptable. Here at Victim First, we recognise the significant impact that hate crime and hate incidents can have on an individual and also their families and circle of friends. We understand that each victim of hate crime has individual needs, and that is why our service is designed to be tailored to meet these needs, dependent on the wishes of the victim.
'We offer both emotional and practical support, ranging from regular phone calls or visits enabling victims to talk about how they are feeling, to an immediate referral to our onsite mental health nurse, to crime prevention measures fitted by our approved specialist locksmiths. We also offer victims the opportunity to communicate or even meet with the person who has caused them harm; restorative justice support such as this can really help victims to feel better about their experience of crime.